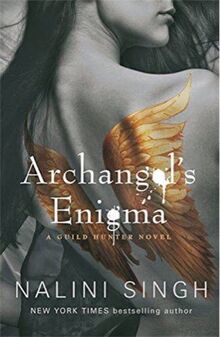 Archangel's Enigma (20015) is the eighth book and features Naasir and Andromeda in the lead roles.
This was released on September 1st 2015.
Offical Sypnosis
Edit
New York Times bestselling author Nalini Singh returns to her world of dark passion and immortal power—and to one of the most seductive and impenetrable heroes ever to stalk the Guild Hunter landscape…
Naasir is the most feral of the powerful group of vampires and angels known as the Seven, his loyalty pledged to the Archangel Raphael. When rumors surface of a plot to murder the former Archangel of Persia, now lost in the Sleep of the Ancients, Naasir is dispatched to find him. For only he possesses the tracking skills required—those more common to predatory animals than to man.
Enlisted to accompany Naasir, Andromeda, a young angelic scholar with dangerous secrets, is fascinated by his nature—at once playful and brilliant, sensual and brutal. As they race to find the Sleeping archangel before it's too late, Naasir will force her to question all she knows...and tempt her to walk into the magnificent, feral darkness of his world. But first they must survive an enemy vicious enough to shatter the greatest taboo of the angelic race and plunge the world into a screaming nightmare…
The Prophecy
Edit
Archangel of Death. Goddess of Nightmare. Wraith without a shadow.
Rise, rise, rise into your Reign of Death.
For your end will come. 
Your end will come. 
At the hands of the new and of the old.
An Archangel kissed by mortality.
A silver-winged Sleeper who wakes before his Sleep is done.
The broken dream with eyes of fire.
Shatter. Shatter. Shatter. [1]
Full Plot Summary
Edit
✥
World-Building
Edit
Andromeda: aka "Andi", is a Scholar with a specialty in Sleeping archangels who has worked and lived at the Refuge for the past three hundred and twenty-five years under the mentorship of Jessamy. Granddaughter of the archangel Charisemnon. Parents are: Lailah and Cato. A joyful time that is coming to an end—she is obligated to return home to a cruel court in fifteen days.
Naasir: one of Raphael's Seven—feral and a six hundred-year-old immortal Made by Osiris, and something other with a primitive outlook on life. The Naasir is Socially inept, those who love him have taught him how to blend. And he is refreshingly honest with the soul of a prankster. Has silver eyes and silver hair.
Characters
Edit
Groups and Organizations
Edit
Titles and Positions
Edit
Supe Types
Edit
Angels: angelkind
Archangels: Ascended, the most powerful of the angels.
Ancients: Very, very old Archangels, most of whom are in the Sleep
Chimera:  a mixed species being—Made by Osiris. There were many failed experiments—their twisted skeletons left as evidence. [10]
Hunter-born: Hunters born with the ability to track by scent; stronger, faster, live longer; a kind of supernatural human.
Reborn: shambling, living dead who hunger for flesh. Lijuan's horrific creation—like zombies.
Sleepers: Archangels who have gone to rest in a hidden location when they get too old and their power starts to overtake them. They may sleep for hundreds or thousands of years, and they may or may not awaken. No one knows for certain how many Sleepers there are, but Caliane believes there are seven Archangels who Sleep.
Vampires: Vampires are Made by Archangels. They must serve out a 100 year contract with an angel owner.
Wing Brother: member of the Wing Brotherhood that guarded Alexander's place of Sleep.[9]
Things, Events, States of Being, Processes
Edit
Amber: Amber means entangled—it's romantically traditional to give amber to the one you claim as yours. Lovers usually exchange amber embedded jewelry — Gold is exchanged for married couples. [11]
Angelfire: a power ability that only Cadre members can possess; Raphael is a known user.
Black Rain: poisonous rain—Lijuan's new weapon gained from the Cascade. Anyone she hits with it turns to black ash. [7]
Bloodborn: aka Angel of Blood—A form of insanity that all angels have potential to fall victim to. Uram, an Archangel, suffered from this. Thought to be caused by a surfeit of toxin in angel's blood used to Make vampires.
Cascade: supercharging event that increases an archangel's abilities or powers. It's not always a good thing.
Melding: the process, or power, of combining things together, like a tiger with a Made boy.
Sleep: When an Ancient Archangel puts himself to rest in a secret hidden location—he or she may awaken centuries later. 
Star Grimoire: a lost book that is rumored to exist, an angelic treasure lost for thousands of years. It is the key that will unlock Andromeda's vow of chastity.
Vampire Virus: the virus was sent into Raphael's territory just prior to the War of Life and Death. The same virus is now ravaging Charisemnon himself—the originator of the virus, the one who unleashed it on NYC.
War of Life and Death: aka Angel War —The war that too place in NYC when Lijuan and her forces attacked Raphael and his people. Life stands for Raphael and Death stands for Lijuan, the angel of Death.
Book References
Edit
External Links
Edit

✥